How Exactly Does The UV DTF Printer Process Work Well?
Recently the advertising and printing industry has been discussing the topic of UV DTF crystal labeling.
Wear-resistant and sunlight-resistant, exquisite and high-end, ready to stick and use characteristics, so that the industry advertising practitioners and mass consumers have a great curiosity as well as interest in it.
Crystal labeling name source: crystal-like crystal clear appearance. It can make the listener produce rich associations and generate strong interest in understanding.
Printing Mode of UV DTF Printer
The UV DTF printer production process utilizes mature UV printing technology, which has been upgraded and improved to print crystal labels.
The printing mode can be selected according to the printed material and transparency.
White + color + varnish or color + varnish.
Printing white is to prevent the printing of transparent substrate above the unevenness of scratches, white cover has the power to cover.
Color that must have the color, and the design of the same color output, varnish is to protect the ink layer just printed, as well as to maintain the durability of the crystal label. In addition, the varnish also has a sense of gloss and three-dimensional sense, so that it has a higher added value.
Color + varnish printing mode is used on non-transparent materials, if the pursuit of better results, it is recommended or an additional layer of white base color.
UV DTF Printer Application Program
Crystal labeling is developing rapidly and the technology is maturing, which can realize the application scheme of hot stamping gold and silver.
It is recommended that the crystal labeling in the hard smooth surface material: such as packaging boxes, tea cans, paper cups, notebooks, tin cans and aluminum boxes, plastic, stainless steel, ceramics and so on;
It is not recommended to paste on soft material items, such as cloth, leather, silicone surface, etc.
Although it can be pasted, but the firmness and durability will be substantially reduced.
UV DTF printers are currently available in several types, a roll-to-roll printer and a flatbed printer.
Roll-to-roll printers are specialized for designing crystal labels, so professionally speaking, this kind of UV DTF printer is more suitable for mass production of crystal labels. It is more efficient, more convenient and more professional.
UV flatbed printers in printing crystal labels and laminating, the process is relatively cumbersome and complex.
It is more suitable for printing label type, thermal paper, small rolls or flat sheets, small cylinders and other similar applications.
How long does a crystal label last?
Need to consider the material to which the crystal label is affixed and the environment in which it is located.
If it is pasted on the hard smooth surface material, and the environment is indoor ambient temperature environment of the crystal label, theoretically can be used for a long time; but if it is outdoor sun and rain, often friction or high-temperature blisters of the environment.
Such as tableware and hot water cups, cleaning and heating have the risk of peeling off and cracking, firmness and durability is poor, the pasted surface is a soft material of the crystal label, paste the time will be shortened, or even become a disposable labeling.
What Is The Difference Between UV DTF Crystal Labeling And Ordinary Labeling?
Crystal labeling a sticker for a hundred uses, a tear that is used, convenient and fast, the perfect solution to the printing of irregular shapes of the vacancy, breakthrough pattern can only be flat plate printing restrictions.
Crystal labeling and ordinary labeling has a very obvious advantage, bright patterns, rich colors, strong sense of three-dimensionality, high gloss, easy to bring up and easy to separate when transferring, do not leave residual glue, a start printing to subvert the traditional advertising personalization market, advertising customization industry, a hot process.
UV DTF Printer Recommendation
At present, SUBLISTAR is a manufacturer with R&D and production capacity, and has a well-known brand awareness at home and abroad.
Its representative roll-to-roll UV DTF printers are Star IV 30R Roll To Roll and Star IV 60R Roll To Roll, and flatbed printers are UV-3040 Star V and Star V 6090.
Star IV 30R Roll To Roll is the most cost-effective model, A3 print size, white + color + varnish printing at the same time, bright colors, wear-resistant, no fading.
High quality output, all kinds of small crystal labeling, good transfer effect.
Roll to roll printing, automatic lamination, no manual labor, energy saving, high efficiency.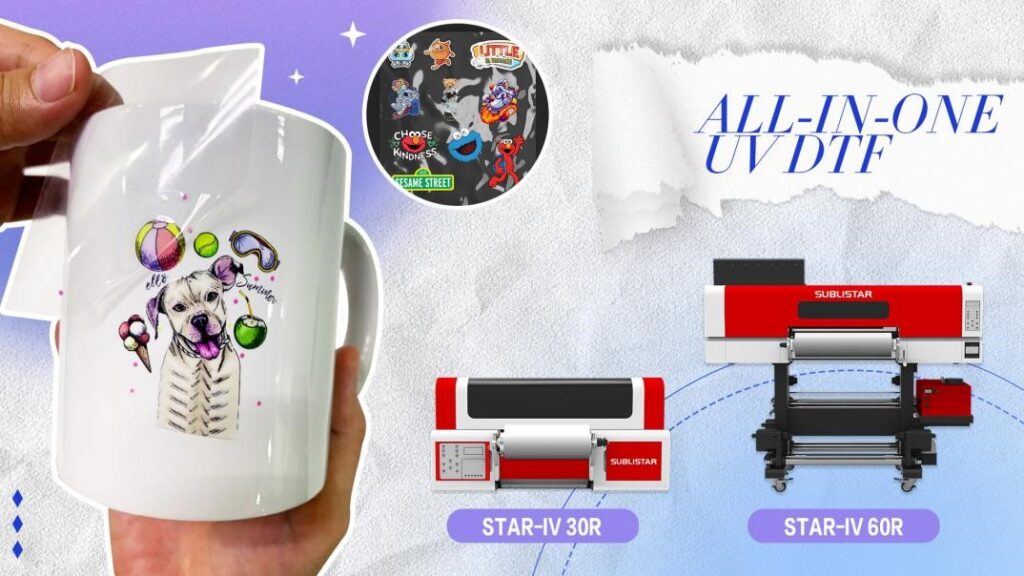 Star IV 60R Roll To Roll supports 360 °rotary printing, fully meet the needs of personalized customization.
Layered printing, 3D embossed feeling. Efficient printing, stable output, cut-resistant, colorfast.
The most outstanding feature of UV-3040 Star V is that it has only one EPSON I3200-U1 printhead, which is very hassle-free, with one-touch operation and no need for calibration.
Multi-layer printing-White, color and varnish printing at the same time, realizing two or three layer printing mode.
Maximum Print Thickness: 98mm-Infrared light automatically detects and adjusts the media height.
Star V 6090 supports UV direct printing and UV DTF sticker printing for unlimited extension of personalization.
Automatic Lifting Ink Capping Station – Driven by a motor, it precisely controls the position of the capping head and intelligently protects the nozzles from external damage.
Siphon ink supply system ensures smooth and stable ink supply without splashing ink droplets, guaranteeing perfect output of print jobs.
Therefore, in order to produce reliable quality crystal labels, it is necessary to choose the appropriate printing mode and matching UV DTF printer for the characteristics of the material, so as to give full play to the perfect characteristics of the crystal labels and realize the durability and glossiness.